Biography
English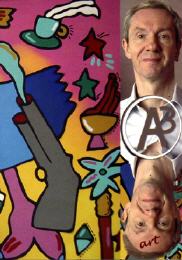 Jean-Luc Juhel is a French painter who lives in Paris. Jean-Luc Juhel is graduated from « L'Ecole de la Grande Chaumière » and » Ecole Supérieur des Arts Modernes » in Paris. He started by using his talent as a graphic designer in the advertising branch, during which period he create his first work of arts influenced by Pop'Art, Underground Rock and comics. He intended numerous exhibitions for young talents as "Figuration Critique", "Vitry", "Montrouge", "Grand et Jeunes d'Aujourd'hui" etc… At same time he worked as a press illustrator in different famous French newspapers such as : "l'Ane", "le Monde de la Musique", le Monde de l'Education", "Le Revue Littéraire Café", theese drawings having been shown at a french literary TV show presented by Bernard Pivot," le Monde Diplomatique", "l'Expansion", "Sciences et Vie Junior", etc… Then he meet Michel Gillet who support the cause of the art movement" Figuration Libre" in his art gallery. M Gillet ask him to join his group of artists of which : Di Rosa, Franckie Boy, Placid et Muzo, Mosner, La Gautrière, Jononne a new yorker graffiti artist, etc… At same time Jean-Luc Juhel meet press illustrator such as Soulas at Libération, Trez at France-Soir in the art gallery Martine Moisan, and the actrice and painter Caroline Tresca. Jean-Luc Juhel created Totems that are used in a TV show. Jean-Luc Juhel and his wife have created the artistic magazine "Collages" who tackles with themes such as : Art, Music, dance, poetry, psychoanalysis. His latest exhibition "Figurations Libres" in the art gallery Le Rire Bleu in Figeac was with painters such as : Combas, Di Rosa, Chamizo, Ben, Boisrond, Mosner, Guesnard, etc…
Jean-Luc Juhel is quoted in art quotation books such as : G Shurr, ADEC, Mayer, Akoun as a reliable art value . His works of art are often sold at l'Hôtel Drouot and Jean-Luc Juhel figures in many major private collections in Europe.

Français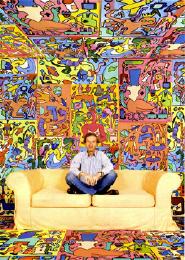 Jean-luc Juhel artiste peintre français vit et travaille à Paris. Diplômé de l'école de la Grande Chaumière et de l'Ecole Supérieur des Arts Modernes à Paris. Il débute ses talents en tant que graphiste dans la publicité et crée ses premières œuvres influencé par le Pop'Art, le Rock Underground et la B.D. Il participe à de nombreux salons de jeunes créateurs, tels que : Figuration Critique, Vitry, Montrouge, Grands et Jeunes d'Aujourd'hui etc.. En parallèle il travaille comme illustrateur de presse dans différents journaux (l'Ane,Le Monde de la musique, le Monde de l'Education, La revue littéraire Café,(ses dessins ont été présentés chez Pivot).le monde diplomatique, l'Expansion, Science et vie junior etc...Il rencontre Michel Gillet qui défend le mouvement de la « Figuration Libre » dans sa galerie. Il lui propose de faire partie de son équipe d'artistes : Di Rosa, Franckie Boy, Placid et Muzo, Mosner, La Gautrière, Jonone taggers new-yorkais etc…D'autre part, il fait la connaissance de dessinateurs de presse dont Soulas à Libération et Trez à France-Soir à la galerie Martine Moisan ainsi que la comédienne et peintre Caroline Tresca. . Ses totems servent de décor lors d'une émission sur France 3. Il fonde avec son épouse une revue artistique « Collages » qui aborde les thèmes de l'art, la musique, la danse, la poésie, la psychanalyse.
Sa dernière exposition : « Figurations libres « dans la galerie le rire bleu (Figeac) en compagnie de Combas, Di Rosa, Chamizo, Ben, Boisrond, Mosner, Guesnard etc…
Aujourd'hui Jean-luc Juhel est mentionné dans le dictionnaire de la peinture de G.Shurr, ADEC, Le Mayer, Akoun. (valeur sûre des artistes de la figuration libre.)Ses oeuvres se vendent régulièrement à l'hôtel Drouot. Il est entré dans de grandes collections privées.